Lifestyle RETREAT week
Find an oasis in nature — find Hagegården!
Do you want to get away from the stress and busyness of life? Answer nature's call and find a quiet, beautiful oasis at LifeStyleSTAY. Outside our door lies a whole world of nature to experience. Enjoy peaceful walks, explore hiking trails, paddle the beautiful lake Värmeln, listen to the call of the loons, or follow tracks of the moose or elusive lynx. Enjoy our delicious plant-based food in Hagegården's beautiful, spacious dining hall, and rest in one of our 12 four-star individually designed hotel rooms.
____
Lifestyle Retreat Week
A week at Hagegården Hotel designed for you to withdraw from the stress of life to a refuge in nature, where you can regain new energy in life. The relaxed program focuses on inspiring and furthering a more active and healthy lifestyle.
Includes:
Board with three plant-based meals a day
Relaxing massage and spa access
Lifestyle consultation based on a health age test
Practical lectures with inspiring lifestyle teaching
Vegetarian cooking demonstrations including a hardbound cookbook
Joint exercise and personal coaching
Outings and experiences in nature
Two occasions in 2023: 10 to 16 July, or 17 to 23 July.
Price (all-inclusive):
SEK 10,800 (double room) per person
SEK 13,300 (single room)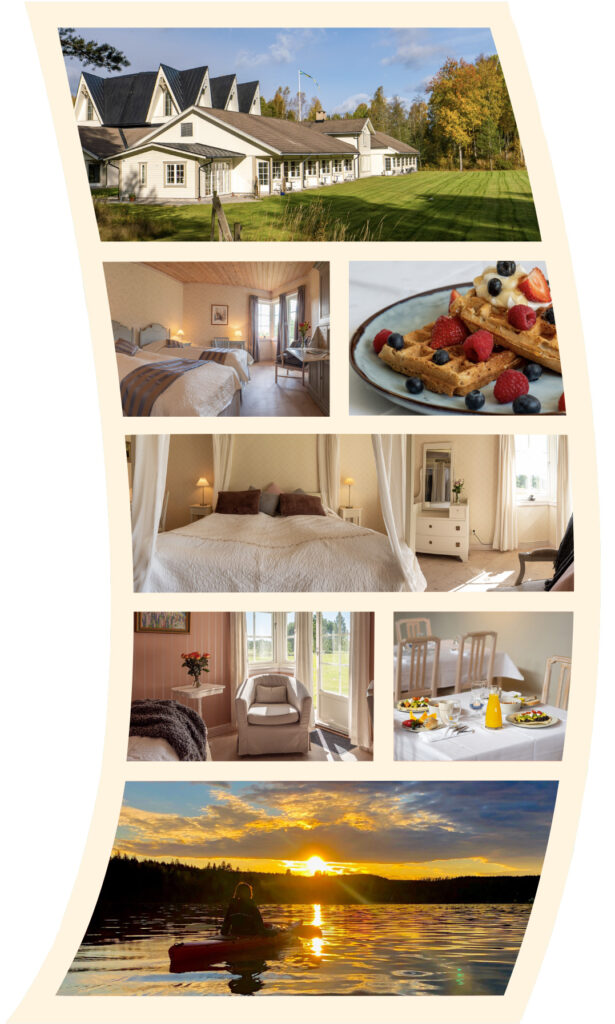 With its rich history, the walls of Hagegården still echo the music of world-renowned musicians who, some 30 years ago, came to find inspiration and rest here. Håkan Hagegård, a famous Swedish opera singer, had an idea that would form the basis of Hagegården Music Center, which he built and opened in 1992. "My idea is to help keep artists healthy, so artists can help keep the world healthy." That idea was so unique that The New York Times published an article featuring Hagegård's vision. "As his career flourished, he saw all around him the hazards of his profession: commercialism, loneliness and ultimately burnout. During the mid-1980's, he was inspired by the American psychiatrist Peter Ostwald, who had spearheaded a holistic medical support program for performing artists. 'He said it was actually physically necessary to slowdown,' Mr. Hagegard said. 'Your body and brain demand rest in order to produce the chemicals you need to think new thoughts. Otherwise, all you're doing is rearranging and recycling the same old thoughts.'" (The New York Times: A Swedish Opera Star Who Is Serious About the Health of Burned-Out Artists, by Cori Ellison – Dec. 14, 1997).
LifeStyleSTAY is building on that vision. So welcome to Hagegård Hotel to refill with new energy for an active and creative life!
Included among the staff during a Lifestyle RETREAT week are a public health consultant, physiotherapist, vegan chef, and more.
To book your place in a Lifestyle RETREAT week, or for more information, write to us at retreatweek [at] lifestylestay [dot] se or call +46 (0)570 570 50.